I am an avid reader. I read like it's my job (and in a lot of ways, it is my job). I read a lot of books throughout the year that I have to teach to my students. I read a lot of essays written by teenagers (yes, you should feel pity for me). I read books and articles about different teaching methods, I read tutorials on how to use this and that piece of technology, I read blog posts about teaching, faith, humor, etc.
You get the idea. I read a lot.
But summer is when I'm at my reading best. Summer is when I can read all the things I want to read simply because I want to, and not because I need to. My English teacher friends and I have a book club every summer. It's really just an excuse for us to get together, hang out by the pool, and enjoy the fact that it's 11:00 AM on a Tuesday and for a little while we aren't having to work. I like reading the books they pick out, as well as the ones I read on my own.
This year, I decided to keep track of the books I read. I used to do this when I was a little kid and I think that's part of what gave me such a passion for literature and reading. My mom would have my brother and I keep a list of every book we read over the summer and she would give us $1 for each one we finished. It was her way of making sure we kept our brains stimulated when we weren't in school. I got to the point where I read so many books that she gave me a threshold and once I hit it that's all the dollars I was getting.
Obviously, no one is paying me based on the number of books I read anymore, but I am still obsessed. So, I decided to share with you my summer book list along with my thoughts on each book. If you like to read, then maybe this will help you choose your next novel. A good place to start would be this article I wrote for iBelieve: "You Need These 10 Books in Your Beach Bag Right Now." This is just a list of some of my favorite Christian fiction novels. I haven't read any of them this summer, but I'm planning on re-reading one or two of my favorites later on.
So, without further adieu, here is Part 1 of my summer book list:
1. Harry Potter by J.K. Rowling
To save time, I'll just group all 7 of these together. I re-read them every summer. Anyone who knows me knows how much I love this entire story. If you are interested in my thoughts on it, or on any of my favorite quotes from the novel, you can read this blog post from last year.
2. The Life We Bury by Allen Eskens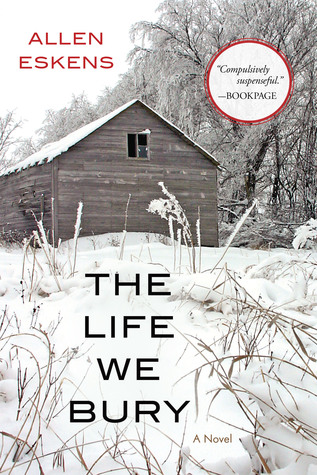 This was the first book club choice. It's a great story if you are a fan of suspense and it delves heavily into the idea that we shouldn't judge someone without getting to know them first. I finished this book in less than two days, and that seemed to be the general consensus of the book club group. It's just one of those books that you don't want to put down because you need to know what happens next. My only complaint about it was the way the story wrapped up. It was a little too perfect, but you read it and judge for yourself. Overall, I was very impressed.
3. The Double Bind by Chris Bohjalian
This was one of those character stories with a major twist at the end. I am a sucker for a good twist and this one didn't disappoint. In fact, it blew me away so much that I had to go back to certain points in the story in order to work out in my head how it all fit together. I love when books force me to think and this one did that. However, the narrator was incredibly unreliable, which bothered me. But that's part of the story and it's what makes the twist so difficult to see coming.
That's all I have completed right now. I'm in the middle of another book club choice called The Beet Queen by Louise Erdrich, so I'll reserve judgement on that until I've finished it completely. I'll post again in a couple of weeks with an update on the list. Reading is my favorite part of my summers, so I'm happy to share that with all of you.